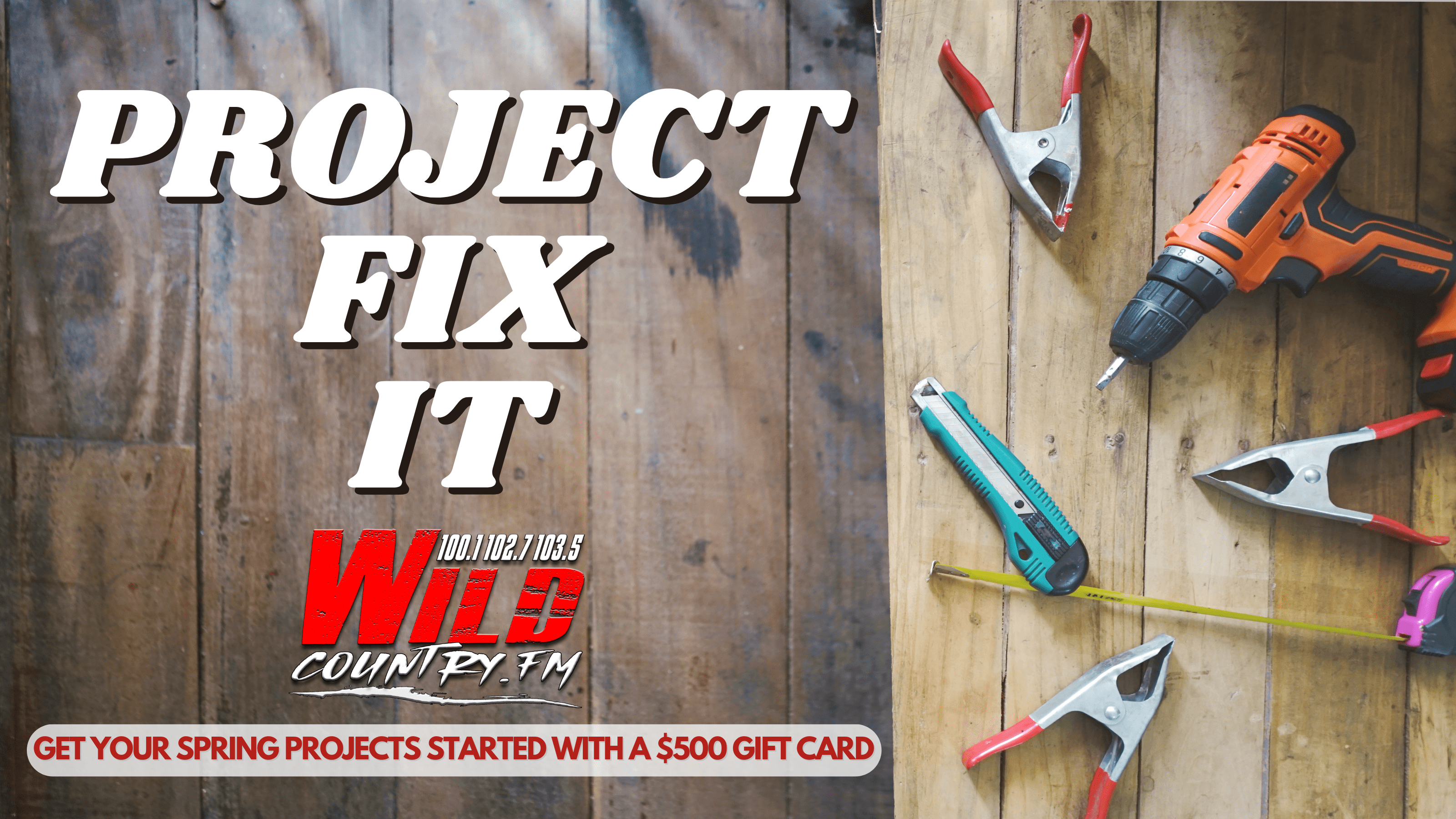 Spring renovation season has officially started, and do you know what that means? A long list of Spring DIY projects. Wild Country Dot FM wants to help you out and leave some of that cash in your wallet with our Project Fix It contest. You could win a $500 gift card to help with your spring projects from one of these great businesses! 
Rex Hardware, Mullarney's Garden Center and Smith Lumber & Supply 
How do you qualify to win? We made it easy, and you have TWO ways to score that $500 gift card!
Way # 1:
Listen on weekday mornings/afternoons to Angie Thomas and Brendyn Wayne to hear the Project Fix It sounder. Caller # 9 will automatically qualify into the draw for the $500 gift card.
OR
Way # 2: Head over to our Facebook page and leave a comment telling us what you will do with the $500 gift card on our weekly Facebook post that will be pinned to the top of our page. 
One winner will be selected every Friday afternoon with Brendyn Wayne.
Weekly Giveaway Schedule:
Week 1 April 3rd – 7th – You could win a $500 gift card to Mullarney's Garden Center.
They have been in business for over 32 years!
They offer riding lawnmowers, zero-turn lawn tractors, lawn tillers, generators, sump pumps, etc.
Let Mullarney's Help you Manage your Outdoor Seasonal needs.
Stop by the Store or Give them a Call. 518 483 1111, w
e are always around to help you out. 
Week 2 April 10th – 14th – You could win a $500 gift card to Rex Hardware.
We're so much more than a hardware store. 
Brand name clothing for everyone like Carhartt and CAT. Boots and shoes, including Muck and Bogg. Work Boots like Georgia Boot, Keen, and more.
Everything you need for your outdoor space. Soils and mulch, garden tools, plants, flowers, and more.
Pet Supplies include, flea and tick medication, fencings, bedding, treats, and more.
Week 3 April 20th – 24th – You could win a $500 gift card to Smith Lumber & Supply.
Locally owned and proud to be a member of the True Value family.
They're right here in your neighborhood with the expert advice, tools, equipment and products you need to get the job done. Smith Lumber And Supply in Fort Covington, NY.