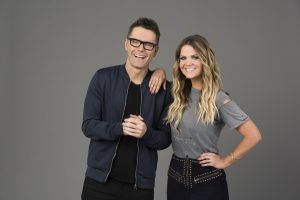 The Bobby Bones Show
BOBBY BONES:
Born and raised in Arkansas, Bobby Bones began his radio career at Henderson State University's KSH 91.1 The Switch at the age of 17, where he graduated with a degree in Radio/TV.  During that time, he also worked at KLAZ 105.9 in Hot Springs, Ark., as a part-time air talent.  In 2002, Bones was hired by Q100/KQAR in Little Rock, Ark., and The Bobby Bones Night Show was born.  The following year, he moved to Austin, Texas where he began hosting The Bobby Bones Show Monday through Friday from 5-10 a.m. CT on 96.7 KISS FM.  Joined on-air by Lunchbox and Amy, they attracted listeners in droves, as well as top rankings in the market.  For his work on the program, Bones was named "Austin Radio Personality of the Year" in 2009, 2010 and 2011, and Austin's Alliance of Women in Media honored the program with their "Radio Personality of the Year" award seven years in a row.
Bones is also half of The Raging Idiots, a comedy band with his radio producer Eddie that plays shows all over the U.S. and has raised millions of dollars to benefit various charitable causes. The duo has performed with Jason Aldean, Dierks Bentley, Florida Georgia Line, Brad Paisley and Toby Keith. Signed to Black River Entertainment in 2015, the band's first full-length album, The Critics Give It 5 Stars, debuted at No. One on the Comedy Albums Chart and landed in the Top 5 of Billboard's Country Album Chart.  The group's superstar friends Kelsea Ballerini, Lindsay Ell, Charles Kelley, Brad Paisley, Carrie Underwood and more are featured on the album that takes satirical and deliberate cues from today's popular music. The band also released The Raging Kidiots: Kiddy Up! in 2016, which debuted as the top downloaded children's album and was born from the success of the No. One EP, The Raging Idiots Presents – The Raging Kidiots.
Bobby Bones has been dubbed "the most powerful man in country music" by Forbes magazine, and he puts that star power to good use by supporting numerous charitable initiatives. He was elected to the Board of Directors for Musicians On Call in 2016, and has helped raise millions of dollars for many worthy causes, including nearly $8 million for St. Jude's Children's Hospital®.
Bones has appeared in both movies and on television, including Bandslam with Vanessa Hudgens, the TODAY show, The Talk on CBS, Fox & Friends, CNN, Live! with Kelly Ripa as a guest host, and Headline News and FOX Business' Kennedy as a recurring guest.
Outside the studio, Bobby spends a lot of time with his dog, Dusty, and is very active on social media, constantly engaging and interacting with listeners via Twitter and Facebook.  He also enjoys exercising, reading, shopping and going to sporting events.  His favorite artists include John Mayer, Darius Rucker, Ben Kweller, Zac Brown Band and Ben Folds Five.
AMY:
Amy, co-host of The Bobby Bones Show, did not plan on a career in radio.  After finishing college at Texas A&M University, the Austin native started a career in sales, but randomly landed a job in radio after she met Bobby Bones at a restaurant.  In 2006, she joined Bones as co-host of The Bobby Bones Show on 96.7 KISS FM in Austin, Texas.
Amy and the entire morning show crew has a passion for community service, which is evident in the radio programs. Supporting numerous public service and charity organizations, they encourage their audience to do the same in emotional, rewarding and often wildly entertaining ways. To date, The Bobby Bones Show has raised nearly $8 million for St. Jude Children's Research Hospital and is involved in numerous other charities and initiatives.
Outside the studio, Amy is passionate about working with orphans in the U.S., Africa and Haiti, where she recently adopted two children. Her husband is a pilot who spent 12 years in the Air Force, so she's also active in supporting the men and women who serve our country.
Fans can find more information about Amy on www.BobbyBones.com and Facebook, or follow @RadioAmy on Twitter and Instagram and RadioAmyAmy on Snapchat.