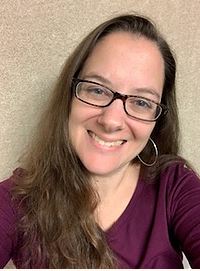 ANGIE THOMAS
I am a Canton NY native and a 1997 Graduate of Hugh C. Williams in Canton. I fell in love with performing at a young age and found my niche in high school as a singer and an actor. After high school, I went on to get my Bachelor's Degree in Drama as well as a Master's of Science in Teaching.  
I landed my first radio gig as afternoon drive host at WSNN & WPDM when the studios were out on Route 11 and we were known as "99 Hits FM". I rounded out 5 years in radio with the last 3.5 of them spent as morning show co-host and news director for Q Country 102.9, 96.7 YES FM, and Super Hits PAC 98.7.
In search of greener pastures, I ended up taking an 8 year hiatus from radio where I bounced from working at the county courthouse to spending the last 5 years in the bridal industry. The whole time I was out of the radio industry I always maintained my ties by writing and recording commercials and hoping that, someday, I might return to a career in radio.
I re-entered the world of radio in June of 2020 when I joined the team at B993 and STAR 100.1. Now as a part of the wildcountry.fm crew, I'm excited to spend my day hanging out with you and playing your country favorites!